The popularity of Discord keeps increasing. And even though it started as a place where gamers can easily communicate, it became something more. As time goes by, the service keeps adding new features and options that enhance the experience of users in every way possible. Here, we are going to talk about a very cool feature called Streamer mode. Keep reading to learn more and see how you can enable Discord Streamer mode.
What Is Discord Streamer Mode?
Let's say a few words about this cool mode.
When you are streaming a game you are playing, you know that everything that shows up on your display is streamed as well, not just your favorite game. In other words, pop-ups of all kinds and private chats can show up as well. And our guess is that you are not willing to share just about everything, right? That's where Streamer Mode comes in. This mode allows you to hide personal information, it blocks pop-ups, invitations, private chats, and more.
How to enable Discord Streamer Mode
Now that you know the purpose of Discord Streamer Mode, we are sure you want to know how to enable it. But before that, you will have to sync Discord with your streaming app. Here's how you can do that:
Enter Discord
Click on the gear icon to access the Settings menu
Next, click the Connections tab
Go to the Server Settings section
The next step is to click on the Integrations menu
Select the platform of your choice and tick the Sync box.
Done!
Now, here is how to enable Streamer mode:
Enter Discord
Click on the gear icon to go to the Settings menu
Find the Streamer Mode section located at the bottom of the User Settings menu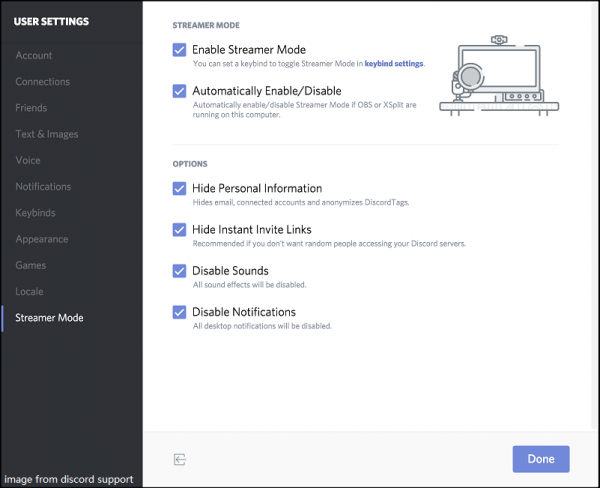 Finally, click on the option Enable Streamer Mode.
That's it. You are now ready to stream your games without worrying that some of your private information will be revealed to your viewers. Enjoy!